Aquatic invasive species (AIS) are non-native species introduced to an aquatic ecosystem that causes environmental and/or economic harm. AIS can cause issues that impact our lakes, streams, and wetlands and are increasingly the focus of Watershed Council monitoring and management programs. Knowing how to identify AIS, how they got here, and what you can do to help prevent them from spreading is important.
Some invasive species are legally designated by the State of Michigan as either "prohibited" or "restricted." If a species is prohibited or restricted, it is unlawful to possess, introduce, import, sell or offer that species for sale as a live organism, except under certain circumstances. Michigan's Natural Resources Environmental Protection Act (Part 413 of Act 451) established the list of prohibited and restricted species, which is regularly amended by Invasive Species Orders. Other Michigan laws may apply to harvesting, possessing or selling regulated and unregulated species.
Credit: Prohibited and restricted. (n.d.). Retrieved March 21, 2023, from https://www.michigan.gov/invasives/id-report/prohibitedrestricted
Invasive species on the watch list have been identified as posing an immediate or potential threat to Michigan's economy, environment or human health. These species either have never been confirmed in the wild in Michigan or have a limited known distribution.
If you think you have found any of these species in Michigan, please report the occurrence via the methods given below by clicking on an individual species name.
Credit: Watch list. (n.d.). Retrieved March 21, 2023, from https://www.michigan.gov/invasives/id-report/watchlist
The term "prohibited" is used for species that are not widely distributed in the state. Often, management or control techniques for prohibited species are not available.
The term "restricted" is applied to species that are established in the state. Management and control practices are usually available for restricted species.
Guide to Our Invasive Species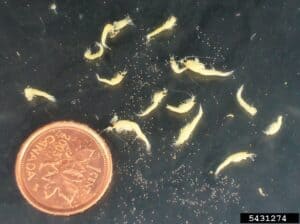 The bloody red shrimp is a mysid, a relative of the native Great Lakes opossum shrimp, Mysis relicta