Overview 
Spiny water fleas are tiny crustaceans that are native to Europe and Asia. They were first found in Lake Huron in 1984 – probably imported in the ballast water of a trans-oceanic freighter. Since then, populations have exploded and the animal can now be found throughout the Great Lakes and in some inland lakes.  Likely means of spread for include the eggs and adults wind up unseen in bilge water, bait buckets, and live wells. Also, fishing lines and down riggers will often be coated with both eggs and adults. 
Identification
Adults range from 1/4 to 5/8 inch long. Spiny water fleas have a single long tail. On a fishing line, spiny water fleas look like bristly gobs of jelly with black spots.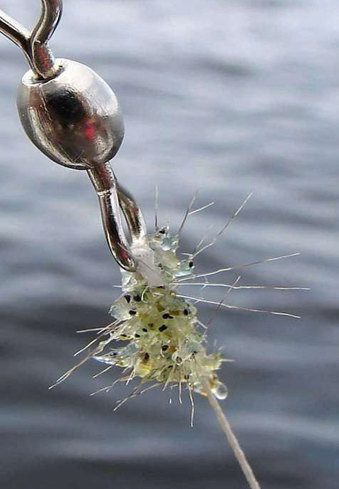 Impacts
Spiny water fleas eat small animals (zooplankton), including Daphnia, which are an important food for larval and juvenile native fishes. In some lakes, they cause the decline or elimination of some species of native zooplankton. Fish do no feed on water fleas because their sharp spine makes them extremely hard to swallow. They become entangled on fishing lines and can clog the eyelets of fishing rods. 
Help prevent the spread of this invasive species
Prevention is key to keeping spiny water fleas from spreading. Please ensure that you thoroughly clean and dry your fishing equipment and boat in between each use. 

If you find this animal in Northern Michigan, please contact Tip of the Mitt Watershed Council at (231) 347-1181 or email info@watershedcouncil.org. Our Watershed Protection team and Aquatic Invasive Species Patrol rely on caring citizens like you to help locate these aquatic invaders. If possible take a photo and record your exact location. 
Scientific Name: Cercopagis pengoi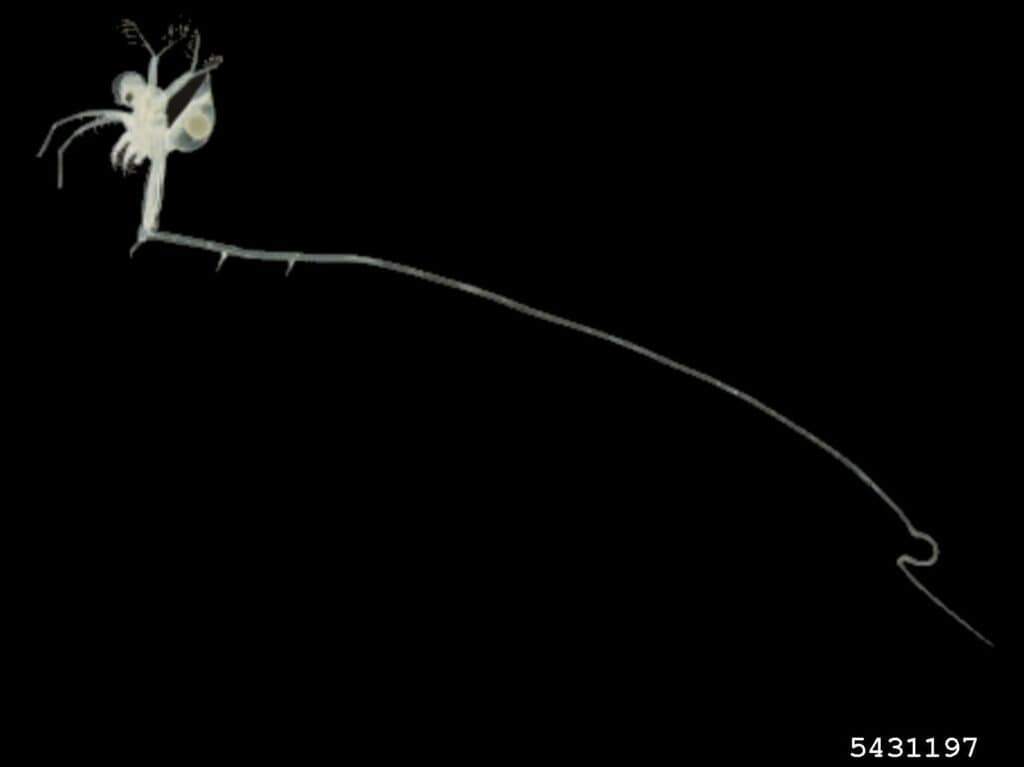 Identification:
Translucent body with black eyes.
Body length: 1-3 mm; 6-13 mm including tail.
Tail contains 3 pairs of barbs and an s-shaped hook near the end.
Generally in clusters of at least 10 individuals.
Clusters appear as wet cotton on items like cables, ropes, and fishing lines.
Diet: Fishhook waterfleas consume other zooplankton species.
Habitat: Fishhook waterfleas live in freshwater and brackish lakes.
Native Range: Aral, Azov, Black, and Caspian seas of Asia and Europe.
U.S. Distribution: The fishhook waterflea has been reported in Lakes Ontario, Michigan, Erie, Huron and Superior; Muskegon Lake and the Finger Lakes of New York.
Local Concern: Dietary preference put this species in direct competition with native planktivores. The long tail spine and barbs make this zooplankton less appealing to planktivorous fish, so population regulation from predation is unlikely to occur. This could have a serious effect on planktivore food supply in the Great Lakes region.
Means of Introduction: Ballast water, recreational boating, fishing equipment.
MORE INFORMATION:
Fishhook Waterflea Invasive Species Alert – Printable PDF
Credit:
Fishhook waterflea. (n.d.). Retrieved March 15, 2023, from https://www.michigan.gov/invasives/id-report/crustaceans/fishhook-waterflea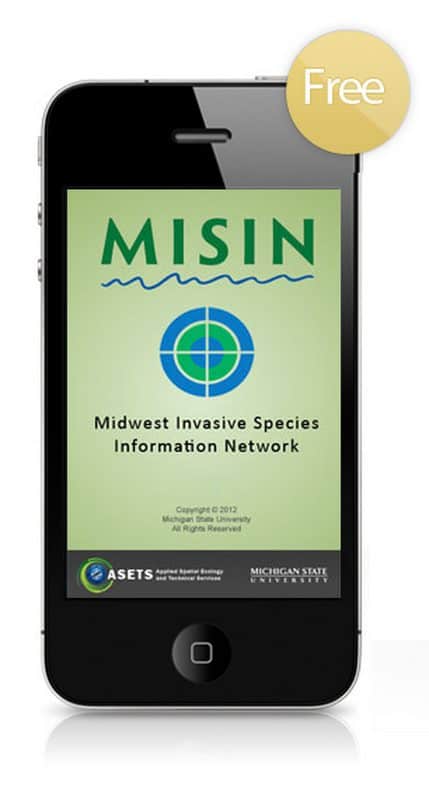 Reporting Invasive Species – FREE APP 
Midwest Invasive Species Information Network (MISIN)
Smartphone App
The MISIN smartphone app provides a mobile solution for the capture of invasive species field observation data. You can play an important role in the early detection and rapid response to new invasive threats in your area by contributing invasive species observations to the MISIN database. 
Identify and report 200+ invasive plant and animal species 
Capture and submit species observations from the field 
Include images taken in the field with your observation 
Browse images and species information on the top Midwest invaders