The Great Lakes are one of the world's most significant water resources and are the most extensive freshwater system on earth, easily spotted as an outstanding feature on a map of the world.
The Great Lakes contain 20% of the surface freshwater in the world—that's about six quadrillion gallons of water! This also represents 90% of the freshwater in the United States. Only the polar ice caps contain more fresh water. The Great Lakes span more than 750 miles west to east and, if spread evenly across the continental US, they would submerge the country under about 9.5 feet of water. 
In addition to the Great Lakes themselves, the region is richly endowed with high quality inland lakes, expansive forests, blue ribbon trout streams, prairies, unique bogs, and the largest freshwater coastal wetlands on Earth. With nearly 10,900 miles of total shoreline, depths up to 1,333 feet, and 94,250 total square miles of surface area, it's no surprise the North American Great Lakes are one of the world's natural wonders.
The Two Great Lakes in Our Service Area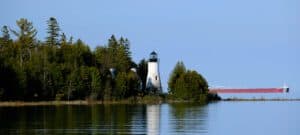 Lake Huron is the fifth largest freshwater lake in the world.
​The Great Lakes are under constant distress from a number of sources. Here are some of the current ones:
Great Lakes Way of Life
The natural attributes of the Great Lakes ecosystem—the streams, rivers, inland lakes, forests, beaches, wetlands, and the multitude of fish and wildlife species that dwell within these landscapes – define the character of the region and the way of life for its residents and visitors.  The Great Lakes provide 42 million people with drinking water and provides billions of gallons of water per day for municipal, agricultural, and industrial use. The Great Lakes economy supports agriculture, commercial and sport fisheries, shipping, recreation and tourism, and industry.  The Great Lakes ecosystem contains various types of habitats allowing for more than 3,500 species of plants and animals including 250 species of fish.
Other sources of information: