Description:
Black Lake is one of the largest lakes in the Tip of the Mitt Watershed Council service area. In terms of surface area (>10,000 acres), Black Lake is the 9th largest inland lake in the State of Michigan. It is located in the northeast corner of the Lower Peninsula, in both Cheboygan and Presque Isle Counties. Although not pronounced, there are two distinguishable basins in Black Lake; the northwest end characterized by broad shallow areas that deepen gradually while the southeast end is much deeper, wider and has a more pronounced drop-off, particularly on the western side.
The largest inlet to Black Lake is the Upper Black River, which flows in on the west side just north of Five-mile Point. The next largest tributary is the Rainy River, which enters in the southeast corner of the lake. Several smaller streams, including Stony, Stewart, and Fisher Creeks in the south, Mud Creek in the west and Cain's Creek to the north, also flow into Black Lake. These rivers and streams deliver great quantities of dark tannin-stained waters that give the lake its name. Tannins are natural, coming from plants, and do not pose a threat to water quality. The only outlet from the lake is the Lower Black River, which empties out of the northwestern corner of the lake.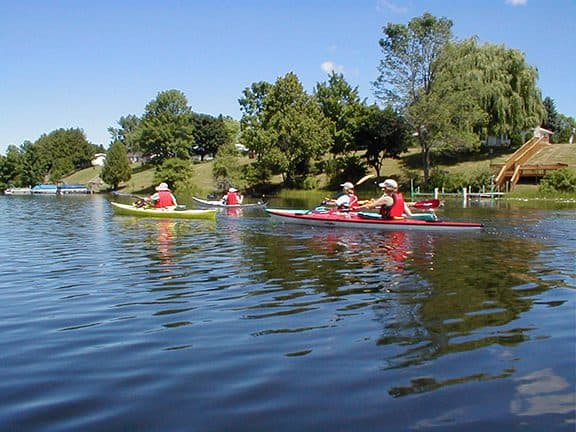 Recreational Access & Use
Recreational access to Black Lake is available to the public at MDNR boat launches located at Onaway State Park on the southern shore and Black Lake Forest Recreation Area in the northeast corner of the lake. Black Lake is renowned for its thriving lake sturgeon fishery. The Black Lake Association has invested considerable time and resources to improve the lake's walleye fishery. One factor affecting the fishery and lake ecosystem in general is the presence of invasive zebra mussels. These invasive mussels disrupt the natural nutrient cycle and food chain dynamics, which results in a loss of primary productivity (planktonic algae) and consequently, leads to reductions in top predator populations, such as walleye and trout.
Monitoring and Research:
Black Lake is monitored every three years through the Watershed Council's Comprehensive Water Quality Monitoring (CWQM) Program for dissolved oxygen, specific conductivity, pH, nitrate-nitrogen, total nitrogen, total phosphorus, and chloride levels.
Water transparency, chlorophyll-a, and water temperature are also monitored in Black Lake each summer by volunteers as part of the Watershed Council's Volunteer Lake Monitoring (VLM) Program.
Title
Categories
Link
hf:doc_categories
2018 Black Lake Tributary Study

Black Lake

black-lake inland-lakes
2017 Black Lake Shoreline Survey

Black Lake

,

Shoreline Surveys

black-lake shoreline-surveys inland-lakes
2014 Black Lake Aquatic Plant Survey

Aquatic Plant Surveys

,

Black Lake

aquatic-plant-surveys black-lake inland-lakes