What are PFAS?
PFAS represent a group of human-made chemicals that have been used in a variety of industries in the United States since the 1940s and 1950s. ​These chemicals are collectively known as PFAS, an acronym standing for per- and poly-fluoroalkyl substances. In chemistry terms, this means the chemicals are made of chains of carbon atoms connected in various ways to fluorine and other elements. The two most extensively produced and studied PFAS compounds are Perflourooctanoic Acid (PFOA) and Perflourooctane Sulfonate (PFOS).
Common questions about PFAS​
What is the Watershed Council doing about PFAS?
Since little information is known about the presence of PFAS in surface waters of our region, the Watershed Council monitored for PFAS during the spring and fall of 2019. Water samples were collected from water bodies in Emmet and Charlevoix Counties near locations with the potential to contain PFAS (i.e., landfills, airports, etc.). Each sample was analyzed for 14 of the common PFAS chemicals at the University of Michigan Biological Station. Monitoring efforts were supported by the Petoskey Harbor Springs Area Community Foundation and the Charlevoix County Community Foundation.
Click here to see the results of the monitoring efforts: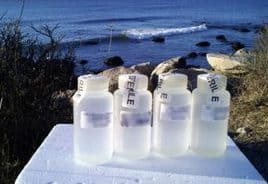 ​We are also working with our partners at Michigan Environmental Council advocating for policy solutions to ensure there is a system in place to protect human health and the environment against PFAS and other emerging contaminants of concern. The policy solutions we are advocating for are listed below and address public health, transparency, cleanup, and accountability.
Public Health
Establish a drinking water standard for PFAS under the Michigan Safe Water Drinking Act by creating a Maximum Contaminant Level (MCL) for PFAS that uses the best science available. Based on a Center for Disease Control (CDC) draft study, this would indicate 7 ppt for PFOS and 11 ppt for PFOA, but this may change with more information.
Reassess the cleanup standard for PFAS in Part 201 of the Natural Resources and Environmental Protection Act due to the aforementioned CDC draft study and emerging health research.
Fund and implement point-of-use filters for individual residents in impacted communities.
Establish a grant program to add needed treatment technologies to public water systems, like granular activated carbon filtration processes.
Fund the connections of residential homes to public water systems when PFAS are found in their wells, if this is available.
Ensure adequate revenue to address ongoing PFAS responses around the state.

Transparency
Require EGLE to publish all test results and information gathered from other levels of government.
Create and update a map with all known contaminated groundwater plumes in Michigan and make it available to the public.

Cleanup
Keep in place the rule in Part 201 of the Natural Resources and Environmental Protection Act that allows new cleanup standards to be set quickly for chemicals not currently regulated (which is virtually all PFAS).
Ensure a sustainable funding source for contaminated site remediation.

​Accountability
Michigan should lead a combined effort by the 50 States to marshal the needed political forces to make the federal government, especially the Department of Defense, fund cleanup and remediation.
Change our laws so that they hold not only the party who caused the release of chemicals responsible, but also include any company that is aware of the dangers related to the chemicals it produces and sells but fails to disclose them to the public.
Local PFAS Sites and Areas of Interest